Our Department – Our Research (UDUF) 2021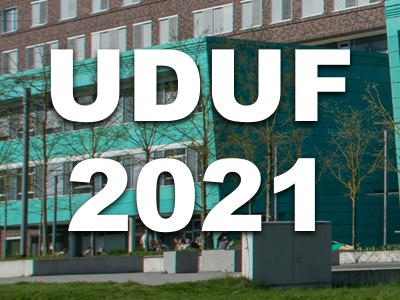 The Department of Chemistry and Pharmacy cordially invites all students of Chemistry and Molecular Science who would like to start a thesis soon to "Unser Department Unsere Forschung 2021" (UDUF).
During the four-day evening event, the professors of the Department will inform about their research focus in short lectures. In a poster presentation by PhD students, students will also gain further insight into the everyday life of a scientific research group. UDUF will take place from June 15th – 17th, 2021 (lectures) as well as on June 22nd, 2021 (poster presentation) from 6:00 p.m. to approximately 8:00 p.m. each day via Zoom.
Zoom Meeting: https://fau.zoom.us/j/61732634314?pwd=MGhCdGNCM2JRYWY4b1hDMkx1U01Tdz09
Meeting-ID: 617 3263 4314, Password: 101982
The lectures will be held mainly in English. Pre-registration is not required.
Program
Tuesday, June 15th, 2021
Time
18:00 – 18:10
18:10 – 18:20
18:25 – 18:35
18:35 – 18:45
18:50 – 19:00
19:00 – 19:10
19:15 – 19:25
19:25 – 19:35
19:35 – 19:45
Lecturer
Prof. Dr. Gmeiner
Prof. Dr. Mühlich
Prof. Dr. Fischer
Prof. Dr. Eichler
Prof. Dr. Heinrich
Prof. Dr. Hammann
Prof. Dr. Gregurec
Prof. Dr. Pischetsrieder
Prof. Dr. Kryschi
Wednesday, June 16th, 2021
Time
18:00 – 18:10
18:10 – 18:20
18:25 – 18:35
18:35 – 18:45
18:50 – 19:00
19:00 – 19:10
19:15 – 19:25
19:25 – 19:35
19:40 – 19:50
19:50 – 20:00
Lecturer
Prof. Dr. K. Meyer
Prof. Dr. Harder
Prof. Dr. Tsogoeva
Prof. Dr. Burzlaff
Prof. Dr. Mokhir
Prof. Dr. Hirsch
Prof. Dr. Mandel
Prof. Dr. Dube
Prof. Dr. Jux
Prof. Dr. Gröhn
Thursday, June 17th, 2021
Time
18:00 – 18:10
18:10 – 18:20
18:25 – 18:35
18:35 – 18:45
18:50 – 19:00
19:00 – 19:10
19:15 – 19:25
19:25 – 19:35
19:35 – 19:45
Lecturer
Prof. Dr. Steinrück
Prof. Dr. Bachmann
Prof. Dr. Drewello
Prof. Dr. Guldi
Prof. Dr. B. Meyer
Prof. Dr. Libuda
Prof. Dr. Görling
Prof. Dr. Imhof
Prof. Dr. Fink
Tuesday, June 22nd, 2021
Poster Session
PhD students of the Department of Chemistry and Pharmacy
Further Information:
Contact