Dual Degree Program – Wollongong
Wollongong/Australia
"Chemistry –
an international program"
In January 2015, the Friedrich-Alexander-University of Erlangen-Nürnberg (FAU) and the University of Wollongong (UOW), Australia, signed a mutual agreement as the basis for a Dual Degree Program (DDP) linking both the Department of Chemistry and Pharmacy at FAU and the School of Chemistry at UOW. Both universities will recognize all courses, exams, and grades the students admitted to the DDP students enrolled in the DDP have obtained. After successful completion of the program, two degrees, one of each partner institution, will be awarded.

Why studying at the University of Wollongong
The University of Wollongong is ranked in the top 2% of world universities. There are students of more than 130 nationalities, a nurturing campus culture and a multi-cultural community that helps international students settle into Australian lifestyle. The campus includes academic support, accommodation, sports, culture and entertainment. UOW international students are offered a lot of events and activities, including English conversation groups, friendship programs and interesting sightseeing trips.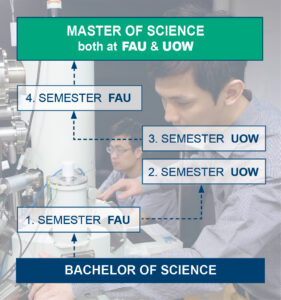 Curriculum:
After studying for one semester at the home university, students transfer then to the partner university for further 2 semesters (1 academic year). The fourth term is reserved for a Master thesis usually undertaken at the home institution. Details of the study program is governed by a Personal Development Plan (PDP) which must be agreed upon and signed at the beginning of the study program by the institutional coordinator of the program.
Application and admission:
To enter the dual degree program students must be enrolled first in the M.Sc. program Chemistry or Molecular Science at FAU. Students interested in joining the DDP should therefore apply for both the M.Sc. program Chemistry / Molecular Science at FAU according to the local regulations and for the DDP program. The latter application should be sent electronically to the coordinator of the DDP at FAU, Prof. Dr. Jürgen Schatz. The deadline for the application for the DDP is identical with the dates issued by the FAU for the M.Sc. program Chemistry or Molecular Science, details can be found HERE.
Necessary documents:
Certificate stating an English language level of IELTS 6.5 or better (= C1)
Sc. degree, transcript of record of the B.Sc. program
Letter of motivation (in English)
Preselection of the candidates is based on the submitted certificates. At least two members of the Management committee will interview all applicants, who passed the preselection process.

Fees
Both Universities agreed to waive tuition fees for students registered in the DDP.
Contact & further information

Program coordinator:
Job title:

Dean of Studies

Address:


Professur für Organische Chemie, Nikolaus-Fiebiger-Straße 10

91058 Erlangen

Phone number:

+49 9131 85-65572

Email:

juergen.schatz@fau.de
E-mail for student affairs
Dean of Studies for Chemistry and Molecular Science