Application

How do I apply?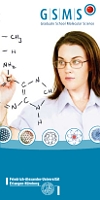 After having obtained a Diploma or Master Degree in Chemistry, Physics, Biology, Pharmacy, Chemical and Bioengineering, Materials Science, Molecular Science, and related fields, you can apply to become a member of the Graduate School Molecular Science. Please note that the GSMS is an excellence program – your marks must be outstanding to have a chance of admittance.
Your first step to realize this goal is to identify your primary research interests. Please have a look at the GSMS members – hopefully, you find a suitable supervisor in your designated research field. Contact this senior researcher and state your interest and your desire to do a doctoral thesis work in his or her group. If this GSMS researcher accepts your application, he will inform you of how to do all the formal procedures necessary for being accepted as a doctoral student at the University of Erlangen-Nuremberg. The procedure is likely to take several months, so you are advised to start the process nine to twelve months before your intend to come to Erlangen. Please expect at least two months for the processing of a visa. When you are admitted into the doctoral program your career as GSMS graduate student may start. Your supervisor will write a recommendation which will be processed by the GSMS recruitment committee.
Admissions run continuously; there are no deadlines.
As an institution with international collaborations the University of Erlangen-Nuremberg and its Graduate School welcomes all students fluent in English (written and spoken). Some fluency in German is appreciated.