The Graduate School Molecular Science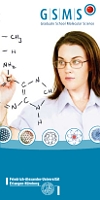 The Graduate School was founded as a public-law institution of the University of Erlangen-Nürnberg in 2008. The GSMS is part of the Excellence Initiative "Bayern exzellent" of the Bavarian State Ministry of Science, Research and the Arts and an cooperation of three departments within the School of Natural Sciences and the School of Engineering: the Department of Chemistry and Pharmacy, the Department of Chemical and Biological Engineering and the Department of Materials Science and Engineering.
The Graduate School offers students an interdisciplinary study program that ranges from Molecular Materials, Design and Engineering of Molecular Catalysts to Molecular Modeling and Simulation. Graduations are possible in the fields of Chemistry, Molecular Science, Physics, Pharmacy, Chemical and Biological Engineering and Materials Science.
How do I apply?