Current Projects
DFG Projects
EU Projects
MSCA-ITN-2020: RASOPTA – Safeguarding future production of fish in aquaculture systems with water recirculation
The RASOPTA Marie Sklodowska International Training Network aims to identify and bridge existing knowledge gaps in the production of fish species that are important to human nutrition and economy in Europe.
The ITN will develop new technologies for improved microbial and chemical water quality. Dominant off-flavours in water and fish from RAS (recirculating aquaculture systems) will be identified and methods for elimination of off-flavours will be explored in order to eliminate their sources and to improve RAS-sourced fish quality. Furthermore, RASOPTA will examine abundance of common disease-causing bacteria and parasites in fish in RAS, evaluate fish welfare and establish safe procedures for biosecurity.
The research will be conducted through interdisciplinary and university-industry driven research-based training of 12 Early Stage Researchers, who will be educated in state-of-the-art RAS technologies. Partner institutions include University of Copenhagen, Technical University of Denmark, Norwegian University of Science and Technology, Universitat Autònoma de Barcelona, ELKH Veterinary Medical Research Institute, Faroese Food & Veterinary Authority, Fraunhofer IVV, Freising and the Landwirtschaftliches Zentrum Baden-Württemberg.
ESR6:  Investigation and the development of managing strategies regarding off-flavours in fish and water of RAS
The project aims to identify off-flavour hotspots in freshwater RAS systems, develop strategies to avoid off-flavour formation, and evaluate consumer acceptance of RAS fish. Therefore, water samples from distinct freshwater RAS will be investigated by means of analytical methods like gas chromatography-olfactometry/mass spectrometry. In addition, the organoleptic properties of the fish and its acceptance will be examined by sensory evaluation and consumer testing of fish.
ESR7: Resolving the influence of different fish feeds on off-flavours in RAS water and develop new experimental feeds with alternative protein and lipid sources.
The project focuses on the investigation and the development of managing strategies regarding off-flavours in fish and water of RAS. Specifically, the impact of feed ingredients on the off-flavour in fish will be investigated by sensory characterization and analysis of different feeds. The influence of different feeds on fish health, microbial growth and activity in relation to water quality will be evaluated.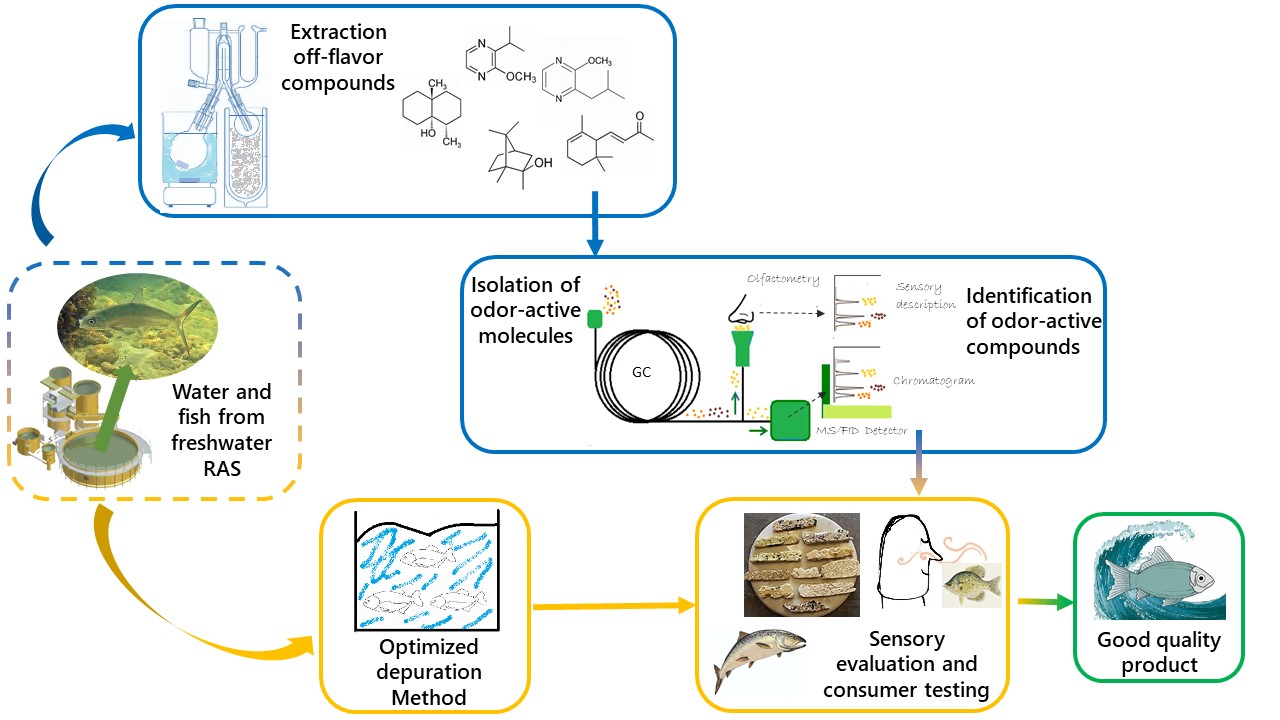 MSCA-ITN-2019: C-PlaNeT - Circular Plastics Network for Training
The C-PlaNeT Marie Sklodowska International Training Network has been approved. C-PlaNeT is a European Joint Doctorate Programme with 15 PhD researchers on circular plastics economy. The C-PlaNet consortium is very multidisciplinary and consists of polymer chemists, process technologists, LCA-practicioners, social scientists and economists. The researchers will, next to their PhD research also attend a joint training programme.
Academic partners include Ghent University (Bel), KU Leuven (Bel), Friedrich-Alexander Universität Erlangen-Nürnberg (Ger), TU Berlin (Ger), University of Thessaloniki (Gr), Montanuniversität Leoben (Au) and Denmark Technical University (Dk). In addition, 23 other partners will be involved in the programme: 2 research institutes, 18 companies (including DOW, INEOS and Novo Nordisk), the City of Ghent, Plastics Europe and the Ellen McArthur Foundation.
ESR 8 – The project focuses on the characterization of the causative odour-active constituents in recycled plastics by using smell-guided chemo-analytical methods. The knowledge of the molecular underpinnings of the respective smells is used for guiding odour-minimization technologies. Furthermore, identification and adaptation of sensor strategies for in-line detection and monitoring of odour emissions in recycling processes are goals of this project.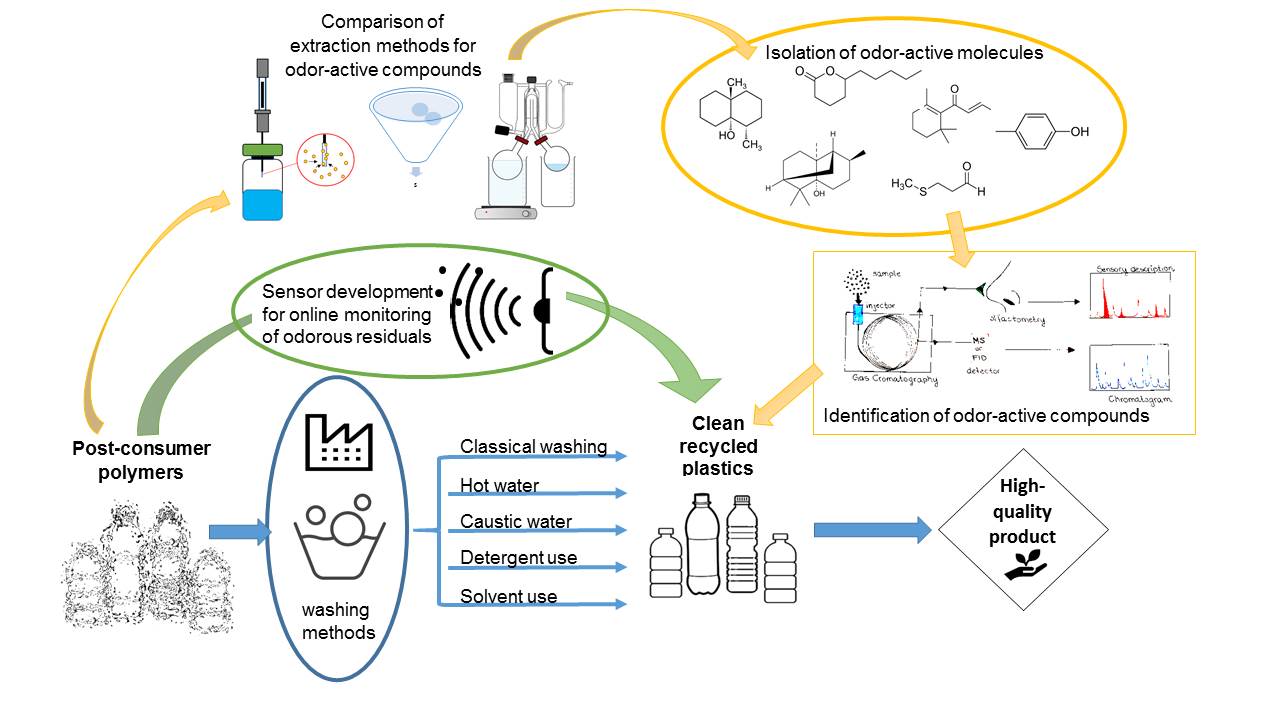 ESR 15 – The project aims at recovering high-quality polymers from marine and/or beach plastics. Hence, suitable collection systems will be established for (1) in-depth physical and chemical characterization of the waste. In a subsequent step, (2) solvent-based recycling will be applied to recover purified target polymers. (3) Chemical recycling routes will be applied for non-target polymers, when material recycling proves not feasible.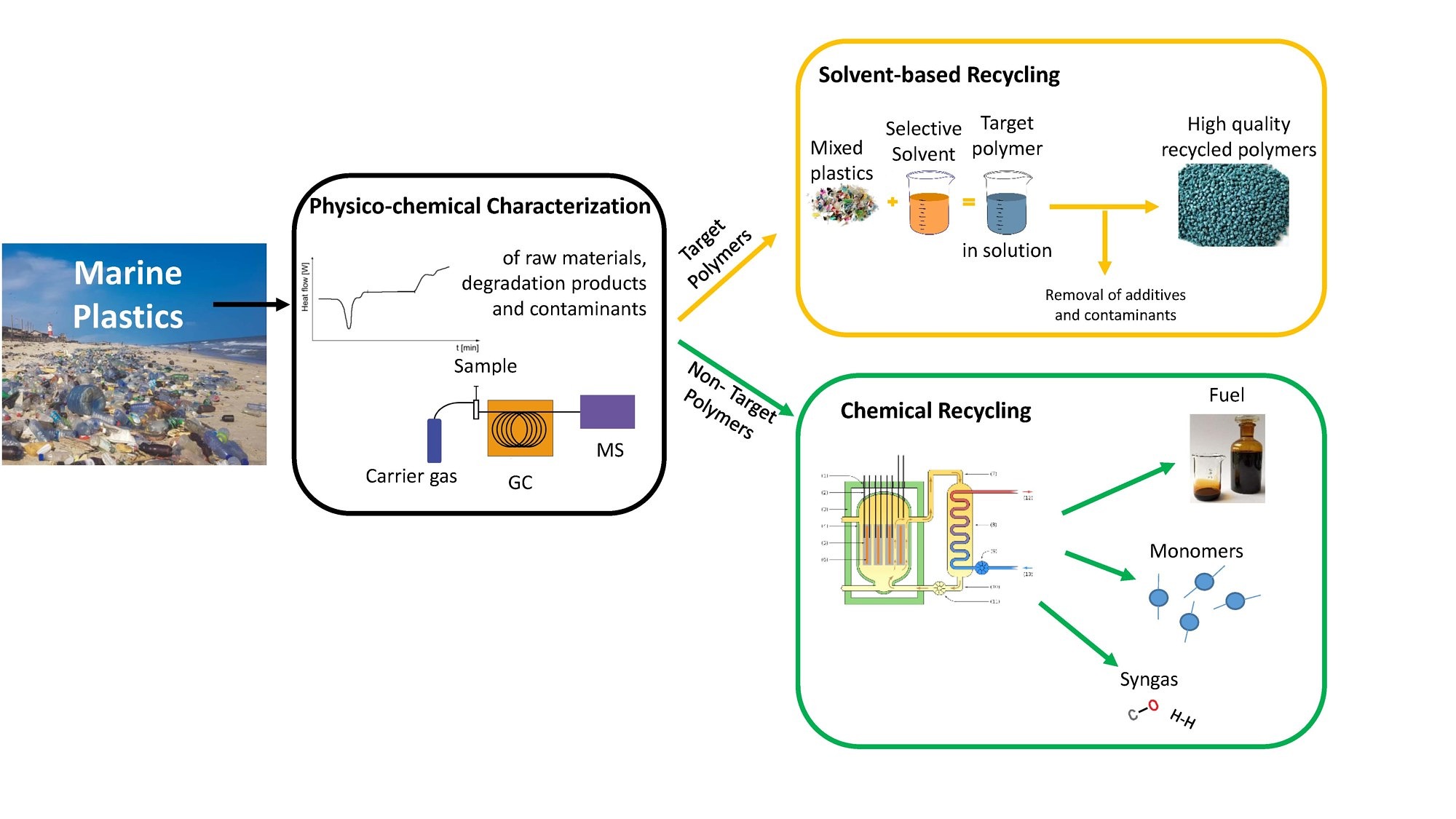 Other Projects
Chemical communication in humans: exploring principles of the perception of human chemosignals
Molecular communication is omnipresent in living organisms. It occurs from a microbial to vertebrate level, and air-borne chemical communication can be considered part of it. Humans therein are still poorly understood and the possible implication of chemosensory information in human social interaction has long been neglected. Recent research has demonstrated that transmission of chemical information between humans leads to measurable physiological and behavioural effects. The current project, awarded by the Friedrich-Alexander-Universität Erlangen-Nürnberg (FAU) with the Faculty of Sciences' Women's Prize, aims at increasing our knowledge of the perception of emotional body odours in conjunction with their behavioural effects.
Coordinator: Dr. Helene Loos
Project Partner:
Prof. Dr. Jessica Freiherr (Neuroscience of Sensory Perception, FAU)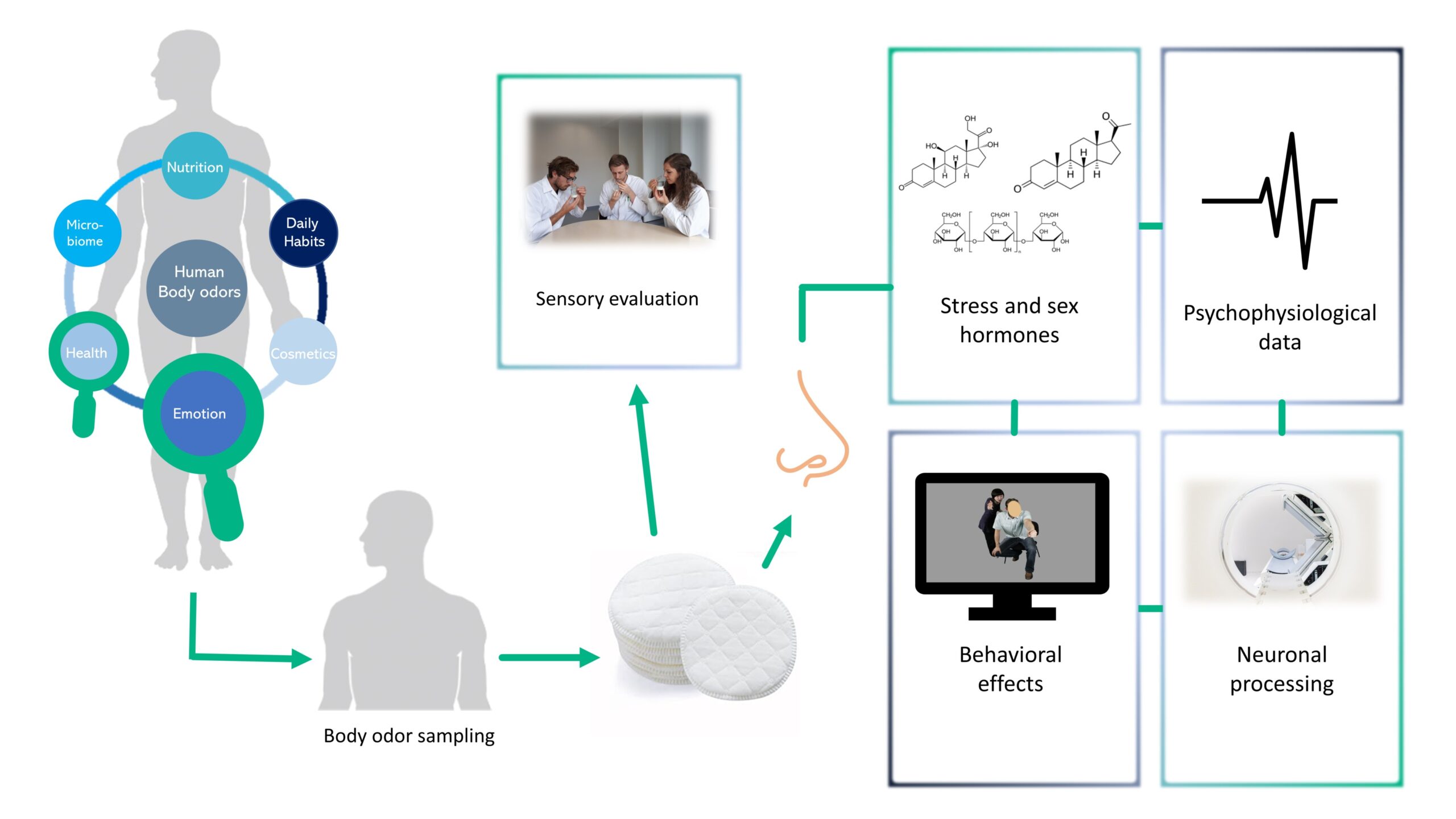 BFS Project: SHIELD – Sichere heimische (Bio-) Lebensmittel durch sensorische Detektionsverfahren
High quality of (organic) foods along the supply chain is needed to ensure quality of foods for consumers without food loss. Using a combination of sensor technologies, optical methods and intelligent algorithms the project "SHIELD" aims at developing hand-held devices and smart software, which can easily be used in large and small enterprises. To enable the design of these technological advancements, we work on identifying marker substances for quality determination, which will subsequently serve as the basis for developing the new fast test methods.
Coordinator: Prof. Dr. Andrea Büttner
Project Partners: Frauhofer IVV, Chair of Food Chemistry, Chair of Economics, Discrete Optimization, and Mathematics and the Machine Learning and Data Analytics at FAU, TH Nürnberg and other partners