Prof. Dr. Danijela Gregurec
Biointerfaces Lab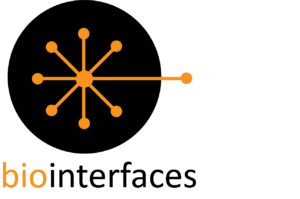 Prof. Dr.
Danijela
Gregurec
Contact us: contact-biointerfaces@fau.de
News
Biointerfaces welcomes Nina Donner. She will support us in our EU Projects BRAINSTORM and BRAINMASTER. Welcome Nina!
We are extremely excited and grateful to receive funding from the Horizon-ERC-StartingGrant2023 for the BRAINMASTER project. Danijela and her team will work on next generation minimal invasive neuromodulation technologies, allowing for real-time stimulation and analysis of neuronal activities in a single wireless device. Stay tuned for the project website and all upcoming news regarding our ERC-project!
Biointerfaces welcomes David Onaiyekan, who will support us with our IT Infrastructure. Welcome David!
We are excited to have Bilal Nizami visiting us as a guest researcher and are looking forward to exchange scientific knowhow and experiences.
During the last two days the #brainstorm #kickoff #meeting took place at FAU Erlangen-Nürnberg. We are happy to start the #project activities with this event, that was filled with fruitful discussions and successfully developed a roadmap for the upcoming months. Thank you to all partners University of Rome "Tor Vergata"​, CIC biomaGUNE, University of Helsinki, University of Glasgow and AKA Biotech for your contributions!
We are delighted to have Vicente Durán Toro joining our lab as a postdoc, working on development of next generation functional micromaterials for brain implantation!
We are wishing a warm farewell to Hany Gabriel and Stephan Petkov. Thank you for your contributions to the group.
We are excited to have Stephan Petkov starting with us as a postdoc to work on the exiting neuro-bio part of our lab!
We are grateful to receive funding from the Horizon-EIC-2022-PathfinderOpen-01 for the BRAINSTORM project. Biointerfaces will lead the BRAINSTROM project, where we and our partners will work on multimodal nanoinvasive neuromodulation technologies! We are looking to many exciting breakthroughs that BRAINSORM will bring.- Project website comes soon!
Congratulations to Lorenzo for having his review accepted in iScience! Read on exciting physical mechanisms that govern wireless nanomaterial – neuron interactions here
Danijela is delighted tio be invited for giving a talk at the Talk at the XX Brasil MRS conference to address innovations in nanomaterials as next generation of neural interfaces.
Biointerfaces wishes a warm welcome to Naside Tezcan, who will work on mechanical engineering tasks at the lab!
Biointerfaces welcomes Hany Gabriel, who will help with scientific organization and communication of the lab!
We are wishing a warm farewell to Elizaveta Shkredova. Thank you Liza, and all the best in your future endeavours!
We are grateful to the Hertha und Helmut Schmauser-Stiftung for the continued support of Biointerfaces lab. Thank you for awarding us with Hertha und Helmut Schmauser-Stiftung 2022 funds!
We are delighted to receive funding from the HORIZON-EIC-2021-PATHFINDERCHALLENGES-01-02 for CROSSBRAIN project to design exciting functional interfaces for brain stimulation!
We are delighted to have Sergio Moya visiting us under the Visiting Professor Programme and are looking forward to many new ideas arising at the interface of soft matter and sensory sciences! Welcome, Sergio!
Biointerfaces welcomes Leo Rossdeutscher who will investigate with us how toxins influence directly on chemo/thermosensitive TRPV1 ion channel!
We are happy to welcome Elif Kocar who joined biointerfaces lab to develop sophisticated nanoparticle-based biosensors!
Danijela is excited to contribute to the celebration of the CIC biomaGUNE 15th anniversary with the talk that covers her research from PhD at the center till the present day.
Danijela will give a talk at the 4th International Brain Stimulation Conference on anisotropic nanodiscs capable of dual neuromodulation.
Danijela, together with the Sensory Sciences Team at FAU will talk about senses and perception at G'SCHEID SCHLAU! with some interesting hands-on experiments!
We are delighted that the 'wireless DBS' paper lead by Dr. Hescham from Maastricht University is out in  Nature Communications Congratulations to the whole multidisciplinary and multinational team!
Danijela is delighted for receiving EAM Starting grant from the Cluster of Excellence Engineering of Advanced Materials. Congratulations!
Congratulations to Danijela on being awarded by Dr. Hertha und Helmut Schmauser-Stiftung!
Prof. Arnd Pralle from University at Buffalo is visiting us to brainstorm new ideas on magnetic neuromodulation techniques. We are looking forward to this exciting visit.
Danijela Gregurec received the ETI (Emerging talents initiative) award from FAU. Congratulations!
Biointerfaces lab welcomes Lorenzo Signorelli who will join the group in June as a PhD student. Lorenzo will apply functional materials to study and modify neurobiological systems.
Biointerfaces lab welcomes Elizaveta Shkredova, a student assistant who will work with us on scientific organization and communication of the lab.
Biointerfaces lab welcomes Franziska Wasner, our new student assistant. Franziska will work on synthesis and coating of magnetic nanomaterials.
Danijela will talk about  'Magnetic nanomaterials for wireless control of sensory neurons' at the Interdisciplinary Center for Neuroscience (iCN) mini-symposia, Erlangen on February 1st, 2021.
Curriculum Vitae
Education and research experience 

Present
Assistant professor in Sensory Sciences
FAU Erlangen-Nürnberg, Erlangen, Germany
2020
Postdoctoral research associate

Massachusetts Institute of Technology

Cambridge, USA

2016
PhD in Molecular Biology and Biomedicine
CIC biomaGUNE, San Sebastian, Spain
2010
MSc in Applied Chemistry
University of Zagreb, Zagreb, Croatia
2008
BSc and Engineering in Chemistry, Materials and Ecology
University of Zagreb, Zagreb, Croatia

 Research visits

2014
Visiting scientist
ZIK HIKE, Greifswald, Germany
2014
Marie Curie fellow
INIFTA, La Plata, Argentina
Academic Career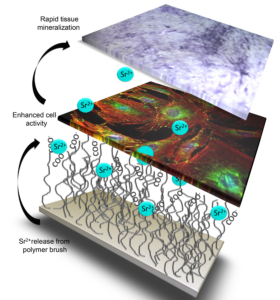 After her MSc degree in applied chemistry at the University of Zagreb (Croatia), Danijela started her PhD in 2011 at the biomaterials research center biomaGUNE (Spain) with Dr. Moya. Her primary focus was on the design of biocompatible and bioresponsive inorganic interfaces that resemble extracellular matrix. She used these materials to study how chemical, physical, and mechanical properties of the materials govern interactions with cells. Some of her approaches implemented controlled release of bioactive ions from the polymeric surfaces and reliance on bio-inspired substrate coatings. These systems in turn allowed mechanistic studies of cell-surface interactions and determination of constituents promoting cell-substrate interactions.
In 2014 as Marie Curie fellow she visited Prof. Azzaroni's lab at the INIFTA (Argentina) to apply electrochemical characterization methods in studies of biopolymer coatings used in tissue engineering. Later that year she was invited at the ZIK HIKE (Germany) to work with Prof. Delcea on determination of nanomechanical properties of titania-based implant surfaces with atomic force spectroscopy.
In 2016 she joined the Prof. Anikeeva Bioelectronics Group at MIT (USA) to follow her fascination for neurobiology. Her work was focused on applying the biomaterials engineering to study and modulate the interactions with nervous system. Her favourite piece of work is development of a magnetomechanical neuromodulation technology that allows for nongenetic control of neuronal signalling in the peripheral nervous system. This technology allows for wireless activation of mechanosensory cells leveraging the force (torque) exerted from the magnetic nanodiscs (MND), specifically targeted to the mechanosensitive ion channels
Research Focus Areas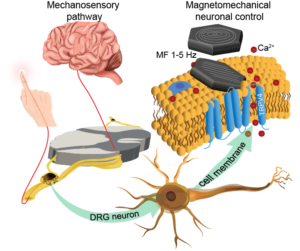 We consider that radical innovations are more likely to be developed within diverse teams that operate by using connective thinking. We are forming a strong multidisciplinary lab from the fields of biophysics, materials science, chemistry, neuroscience, and neurosurgery that comes together at the core of biointerfaces.
Our expertise and interests span from engineering of tools and interfaces for cellular control and elucidating biophysical interfacial mechanisms, to the interrogation of cellular signalling in nervous systems.
We synthetise and functionalize inorganic materials to apply them in studies, aiming to replace or control biological functions.
Main research interests in the biointerfaces lab
Neural interfaces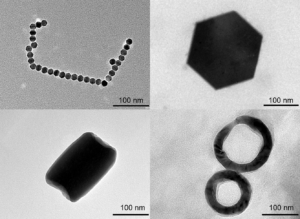 We develop materials and technologies that drive exciting biological studies, with emphasis on the control of neurobiological processes. Our focus is to take advantage of externally applied magnetic fields coupled to magnetic nanomaterials to act as force, heat, or voltage transducers for wireless control of sensory cells.
Biosensors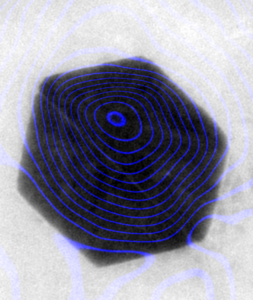 We leverage physical properties of nanomaterials to build biosensors for detection of neurotoxic analytes in vitro and in vivo. Our aim is to design biosensing devices that are fast, miniaturized, and attractive for onsite testing. One of the main advantages of using nanoparticle based biosensing is the small size of the detector, being sensitive in terms of concentration and volume of analyte in respect to conventional sensors.
Neuronal mechanotransduction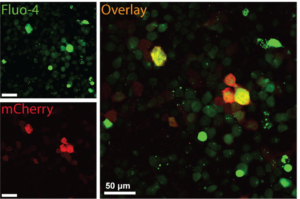 We are curios in the basic transductory mechanisms in neurons, particularly in the field of mechanobiology. We study physical forces that govern the ion channel activity in primary neurons. Our focus are mechanosensitive ion channels, such as TRPV4 and Piezo1, endogenously expressed in the peripheral neurons and involved in the sensory perception such as touch, hearing, and pain.
Current Projects
BRAINMASTER (tbd), funded by the Horizon-ERC-StartingGrant2023, Start 01/2024
BRAINSTORM (https://www.brainstorm-project.eu/), funded by European Union's European Innovation Council, call HORIZON-EIC-2022-PATHFINDEROPEN-01, under Grant Agreement n. 101099355, Duration 04/2023 – 03/2027
CROSSBRAIN (https://crossbrain.eu/), funded by European Union's European Innovation Council, call HORIZON-EIC-2021-PATHFINDERCHALLENGES-01-02, under Grant Agreement  n. 101070908, Duration 11/2022 – 10/2026
Methods
Synthesis Laboratory
Schlenk Method

The Synthesis Laboratory is equipped with a Schlenk line for synthesis of nanomaterials under inert atmospheres. The Schlenk line consists of a dual manifold of several ports. Our setup allows the removal (by vacuum) of the existing atmosphere and the direct incorporation of the inert phase (N2) into the reaction flask. A liquid nitrogen trap and oil bubbler are installed to maintain the pressure and contamination of the system at optimal conditions. High-temperature reactions are also possible by adapting reflux systems and heating mantles to sustain constant reaction volume and temperatures up to 450 °C.

Schlenk Line @biointerfaces lab

Autoclave reactor method

Steel autoclave reactor (Huanyu 100 mL) with a chemically inert PTFE inner line, allows synthesis at high pressure (up to 30 bar). Together with the natural convection oven (Memmert UM-600), reactions can be performed up to 200 °C. Control of temperature and solution vapor pressure within the reactor enables fine-tuning of the crystal phase and geometries of the desired materials.

Autoclave reactor and convection oven @biointerfaces lab

Particle separation

Separation of synthesized nanoparticles can be achieved based on their sedimentation coefficient during centrifugation steps. We have two centrifuges to separate larger colloidal particles (ThermoScientific Megafuge, up to 5000 RCF) and for smaller particle sizes (IKA G-L S000, up to 12000 RCF).

Centrifuges @biointerfaces lab

Particle dispersion

Preparation of nanoparticle suspensions requires proper dispersion of the samples in specific solvents. The Synthesis Laboratory uses a temperature-controlled sonication bath to induce the dispersion of nanomaterials by thermal and/or sonic control of surface interaction between nanoparticles, avoiding the agglomeration of the material due to e.g., van der Waals interactions.

Sonication bath @biointerfaces lab

Water purification system

Reaction synthesis of nanomaterials demand high purity level of solvents and reagents; therefore, the Synthesis Laboratory counts with a Milli-Q Direct 5Q UV water purification unit to assure the use of water type I (18MΩ·cm) by reverse osmosis purification.

Water purification unit @biointerfaces lab

Chemical reagent preparation

For preparation of chemical reagents the laboratory is equipped with an analytical scale (VWR LAG254i-M precision up to 0.003g) a shaking unit (IKA Rotator) and a pH-Meter (Fisher-Scientific accumet AE150 pH 0 – 14 / T° 0-90).

Small lab equipment @biointerfaces lab
Teaching
Neurotech: Physics and Chemistry of Neuromodulation Technologies
This course seeks to build a foundation of material properties as principles underlying electrical, optical, and magnetic approaches to neural stimulation. Main objective is to introduce students to the interdisciplinary fields involved in development of nanomaterials used for control of cellular signaling in neurobiological systems. Course will start with general introduction to the fundamentals of action potentials and neuronal signaling mediated by ion channels within the nervous system. We will discuss invasive and noninvasive approaches and material requirements to match the biophysical properties of the nervous tissue. Course will then introduce organic and inorganic micro- and nanomaterials for optical, electrical, and magnetic neuromodulation schemes. We will discuss their physical properties, synthetic and engineering approaches considering characteristics that influence signal quality and longevity in the tissues. We will highlight remote technologies conducted by magnetic nanomaterials. Students will be exposed to recent publications that emphasize key advances in the field and learn how various chemical, biological, and engineering concepts and advances are used in synergy to develop state‐of‐the‐art neurotech methods.
(Guest-)Lectures
F. Hamdan. Enhancing Cancer Immunotherapies by Stimulating Multiple Immune populations; Erlangen, Germany, 04. October 2023 (Guest-Lecture)
S.B. Nizami. Focused ultrasound mediated delivery of magnetic nanoparticles to the brain; Erlangen, Germany, 17. July 2023 (Guest-Lecture)

S. Moya

.

Biological fate studies of hybrid nanocarries for drug delivery: biodistribution, degradation and surface interactions in biological environments

;

Erlangen,

Germany,

29. March 2022 (

Guest-Lecture

)

A. Pralle. Magento-neuromodulation to decipher choice place-preference in mice – engineering details behind the technique; Erlangen, Germany, 05. August 2021 (Guest-Lecture)
Peer-reviewed publications
Members of biointerfaces lab
Scientific Project Management and Science Communication
Postdoctoral Researchers
PhD students
Student assistants
Join biointerfaces lab
We are always looking for talented individuals to join our team.
FAU Students
Don't hesitate to reach out to inquire about participation as student assistant (HiWi) as well as possibilities for thesis work and practicals.
Contact us: contact-biointerfaces@fau.de