News – Neuigkeiten
June 1, 2017: Joshua has started his Master thesis. He will work on the deconvolution of high-resolution STXM data.
May 9, 2017: Congratulations to Xiaoyan for her excellent PhD examination with overall grade "magna cum laude". With her thesis entitled "Spectromicroscopic Insights into the Morphology and Interfaces of Operational Organic Electronic Devices", she has been awarded the title Dr. rer. nat. With the financial support of GRK starting grant, Xiaoyan will continue as PostDoc within GRK and apply for her own research project. We wish her great success with this application to continue her academic career.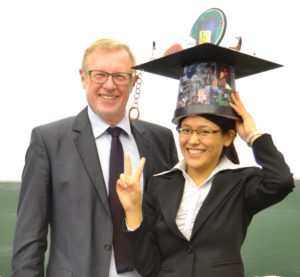 Mar 8, 2017: Finally, our manuscript entitled
"Crystallization of sensitizers controls morphology and performance in Si-/C-PCPDTBT-sensitized P3HT: ICBA ternary blends" (X. Du et al.)
was accepted for publication in Macromolecules. We would like to thank all collaborators for their contributions in this highly interdisciplinary study. Well done!
Last changes: June 25, 2017