News
November 2020
12.11.2020 Kerstins paper is also highlighted on the FAU Mainpage, check it out here.

11.11.2020 Kerstins catalysis paper was highlighted in JACS Spotlights!  Check it out here.

06.11.2020 Tom has successfully defended his thesis  – Congratulations Tom, beautiful job! We wish you all the best in your new adventures – go where no chemist has gone before!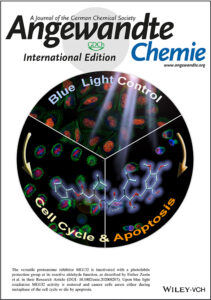 05.11.2020 Our biological chemistry paper was selected for the inside cover of Angewandte Chemie! Congrats to the whole Team!!
October 2020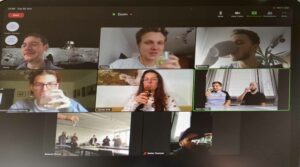 20.10.2020 Zoom-Party celebrating Kerstin's and Ed´s latest papers 
13.10.2020 Kerstins paper "Supramolecular Relay-Control of Organocatalysis with a Hemithioindigo-based Molecular Motor" was accepted for publication in JACS! Congratulations to this great success integrating HTI motors into catalytic processes! Way to go Kerstin!
09.10.2020 Our first Chemical Biology Paper has been accepted for publication!!! Congratulations Ed and Fritzi and the whole team for the new paper "Light Controlled Cell-Cycle Arrest and Apoptosis" in Angewandte Chemie! Outstanding work everyone! Thank you awesome collaborators from the Zanin Lab!
August 2020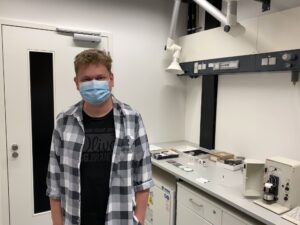 27.08.2020 New space for the upcoming laser laboratory. Roland already moved in...
July 2020
22.07.2020 Congratulations to Roland and Ludwig and the rest of the crew to the new paper "Tuning the ground and excited state dynamics of hemithioindigo molecular motors by substituents" accepted by Chemistry – A European Journal!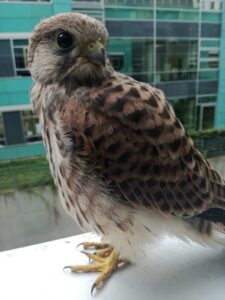 06.07.2020 A warm welcome to the new  Lab-mascot: "Falcon Dube"
June 2020
04.06.2020 First chemistry is kicking off!
02.06.2020 Laura's and Moni's paper "Oxidized Hemithioindigo Photoswitches – Influence of Oxidation State on (Photo)physical and Photochemical Properties" has  been accepted by Chemistry – A European Journal. Congratulations!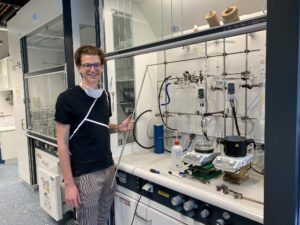 01.06.2020 Maximilian Sacherer joins the group for his Master thesis. Welcome to the team!
May 2020
15.05.2020 Max Zitzmann started his PhD thesis in our group. Welcome to the team!

04.05.2020 The group has startet to get settled at the FAU and started to move in the laboratories!
01.05.2020 Laura Köttner started her PhD thesis in our group. Welcome to the team!
April 2020
01.04.2020 Frederik Gnannt started his PhD thesis in our group. Welcome to the team!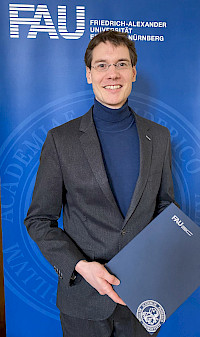 01.04.2020 Our group is moving to the FAU-Erlangen Nürnberg! Henry started as Chair of Organic Chemistry in the Department of Chemistry and Pharmacy on April 1. 2020. Thank you all members of the group – past and present – for making it happen!!! Check this Tweet from the President of the FAU Prof. Hornegger