Research Interests
Asymmetrische Organokatalyse
(i) Entwicklung von leicht zugänglichen und umweltfreundlichen Eintopf-Synthesen  (inkl. Domino Reaktionen) von bioaktiven Heterozyklen unter Einsatz von organokatalytischen Methoden. Durch Reduktion der Aufarbeitungsschritte und Reaktionsstufen können somit die Laborarbeitszeit und Abfälle eingespart und die Kosten gesenkt werden. Die Entwicklung solcher umweltfreundlicher und ökonomisch effizienter Prozesse ist  aktuell eine der wesentlichen Forschungsaufgaben in unserem Arbeitskreis.
(ii) Entwicklung neuartiger chiraler bifunktioneller Organokatalysatoren für diverse Reaktionen sowohl in konventionellen Lösungsmitteln als auch in Wasser.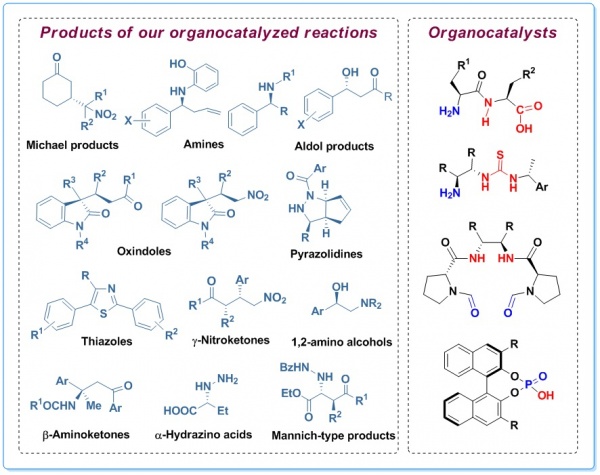 Selected Publications:
Facile access to potent antiviral quinazoline heterocycles with fluorescence properties via merging metal-free domino reactions. F. E. Held, A. A. Guryev, T. Fröhlich, F. Hampel, A. Kahnt, C. Hutterer, M. Steingruber, H. Bahsi, C. von Bojničić-Kninski, D. S. Mattes, T. C. Foertsch, A. Nesterov-Mueller, M. Marschall, S. B. Tsogoeva, Nature Communications, 2017, 8: 15071 (Press releases: Science Magazine; Research in Germany; Science Newsline; Technology Networks; EurekAlert! Science News; Phys.Org; Health Medicinet; Jura Forum; Bionity.com).
Generation of Complex Azabicycles and Carbobicycles from Two Simple Compounds in a Single Operation via a Metal-Free Six-Step Domino Reaction. C. M. Bock, G. Parameshwarappa, S. Bönisch, C. Neiss, W. Bauer, F. Hampel, A. Görling, S. B. Tsogoeva, Chem. Eur. J., 2016, 22, 5189-5197 (Hot Paper – Editor's Choice; Cover Picture).
Michael Addition of N-unprotected 2-Oxindoles to Nitrostyrene Catalyzed by Bifunctional Tertiary Amines: Crucial role of dispersion interactions. C. Reiter, S. López-Molina, B. Schmid, C. Neiss, A. Görling, S. B. Tsogoeva. ChemCatChem, 2014, 6, 1324-1332.
One-Pot Route to beta-Adrenergic Blockers via Enantioselective Organocatalysed Epoxidation of Terminal Alkenes as a Key Step. F. E. Held, S.-W. Wei, K. Eder, S. B. Tsogoeva. RSC Advances, 2014, 4, 32796-32801.
Asymmetric Synthesis of beta-Adrenergic Blockers via Multi-step One-Pot Transformations involving in situ Chiral Organocatalyst Formation. S.-W. Wei, R. Messerer, S. B. Tsogoeva. Chem. Eur. J., 2011, 17, 14380-14384.
Novel one-pot process for the synthesis of 1,3-thiazoles via organocatalysed epoxidation of nitro-olefins. K. M. Weiß, S.-W. Wei, S. B. Tsogoeva. Org. Biomol. Chem.  2011, 9, 3457-3461.
Naturstoff-Hybride für medizinische Chemie
Die Krebs-Therapie und die Behandlung von Virale und Malaria Infektionen mit multiresistenten Stämmen gehören zu den größten Herausforderungen der modernen Medizin. Ein bedeutsames Ziel in der organischen und medizinischen Chemie ist deshalb die Entwicklung neuer Typen pharmakologisch wirksamer Leitstrukturen gegen diese Krankheiten. Ein neuer und vielversprechender Ansatz hierzu ist die Entwicklung von hochwirksamen Hybridmolekülen auf Basis von bekannten Naturstoffen und Naturstoffanaloga. Dieser Ansatz ist für die Entwicklung neuer Leitstrukturen für medizinische Anwendungen sehr attraktiv, da die biologische Aktivität dieser Hybride in vielen Fällen diejenige der entsprechenden Stammverbindungen übersteigt. Es konnte bereits gezeigt werden, dass die Hybrid-Moleküle eine höhere Aktivität im Vergleich mit ihren einzelnen Bestandteilen gegenüber Viren, multiresistenten Malaria Stämmen und resistenten Krebszellen besitzen. Artesunat ist das semisynthetische Derivat des Artemisinins, eines Medikaments, das zytotoxische Aktivität in Krebszellen zeigt.  Wir befassen uns aktuell mit der Synthese von Artesunat-haltigen und anderen biologisch aktiven Hybridmolekülen zur Anwendung in der Anti-Krebs-, Antivirale- und Anti-Malaria-Forschung.
See also the Feature ARTICLE: "Artemisinin: against viruses, cancer and malaria".

Selected Publications:
Artemisinin-Derived Dimers: Potent Antimalarial and Anticancer Agents. T. Fröhlich, A. Çapci Karagöz, C. Reiter, S. B. Tsogoeva, J. Med. Chem. (Invited Perspective), 2016, 59, 7360-7388.
Highly potent artemisinin derived dimers and trimers: Synthesis and evaluation of their antimalaria, antileukemia and antiviral activities. C. Reiter, T. Fröhlich, L. Gruber, C. Hutterer, M. Marschall, C. Voigtländer, O. Friedrich, B. Kappes, T. Efferth, S. B. Tsogoeva, Bioorg. Med. Chem. 2015, 23, 5452-5458.
New efficient artemisinin derived agents against human leukemia cells, human cytomegalovirus and Plasmodium falciparum: 2nd generation 1,2,4‑trioxane-ferrocene hybrids. C. Reiter, T. Fröhlich, M. Zeino, M. Marschall, H. Bahsi, M. Leidenberger, O. Friedrich, B. Kappes, F. Hampel, T. Efferth, S. B. Tsogoeva. Eur. J. Med. Chem., 2015, 97, 164-172. 
Synthesis and study of cytotoxic activity of 1,2,4-trioxane- and egonol-derived hybrid molecules against Plasmodium falciparum and multidrug-resistant human leukemia cells. C. Reiter, A. Çapci Karagöz, T. Fröhlich, V. Klein, M. Zeino, K. Viertel, J. Held, B. Mordmüller, S. Emirdağ Öztürk, H. Anil, T. Efferth, S. B. Tsogoeva. Eur. J. Med. Chem., 2014, 75, 403-412.
Recent Progress in the Development of Synthetic Hybrids of Natural or Unnatural Bioactive Compounds for Medicinal Chemistry. S. B. Tsogoeva. Mini Rev. Med. Chem., (Invited Review), 2010, 10, 773-793.
Deracemization of Chiral Bioactive Compounds by Autocatalytic Crystallization
For more information, see:  CORE (Continuous Resolution and Deracemization of Chiral Compounds by Crystallization),    Pharmaindustrie-online.DE    CHEMIE.DE    Medizin-Aspekte.DE    Bochumer Zeitung   BIONITY.COM   ORTHO-ONLINE.DE    Q-MORE.COM   FAU.DE