Munz Group
Synopsis
We are moving and this site is not maintained anymore. For up-to-date information, see our new hompage.
We are a synthetic group targeting innovation in inorganic coordination chemistry, energy conversion and organic materials. We focus on methodology and reaction mechanisms including the isolation of reactive and elusive intermediates, inorganic spectroscopy, and physical-organic methods. We always use computational chemistry to guide our synthetic efforts. We are passionate about any type of inorganic and organic chemistry, aim at creative and novel approaches for long-standing challenges, and try of course to be happy and contribute to making our world a bit better. If you are interested in pushing electrons and joining our enthusiastic team, contact Dominik.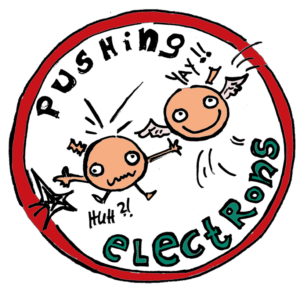 — NEWS —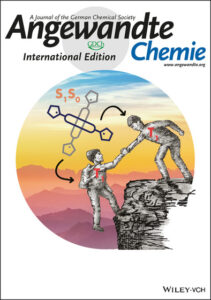 More fantastic news: After 3 wonderful years in Erlangen, D.M. has been appointed tenured associate professor (Inorganic Chemistry: Coordination Chemistry) at the University of the Saarland in Saarbrücken. We are incredible thankful for the credits to our contributions and the confidence in our future achievements. D.M. ist indebted and beyond any expression grateful to Annette, Juli, Stephen and Pier for their efforts! And: We are all already excited about our future endeavors…
ACIE distinguishes our singlet fission manuscript as cover article!!!! Stay tuned – Pier aka the photoshop wizard was working on fantastic ideas…
What a great day – two articles accepted. If you want to know, how to tame radicals for organic electronics and why TTF is not special, read our article in Chemical Science.  If you are more into inorganic spectroscopy, see our article in Inorganic Chemistry on high-valent iron complexes and redox non-innocent ligands!
Exciting results to be read in ACIE! Tobias from the Guldi group proves that our carbene derived biradicaloids are a new class of singlet fission molecules. Together we find that they self-assemble in solution even without a tether, which is unprecedented…
Annette and Dominik participated in the Coordination Chemistry Meeting 2019 in Freiburg.  Nice to meet so many old (and new) friends.
Daniel Mindiola's manuscript on homoleptic uranium complexes with our contribution is out. He made some of the compounds himself! What a dedicated researcher, wow!
We contribute to Gizem's (Inoue group) work, who isolated dimers of Mo and W silylidynes. Read now about these exciting cluster compounds, their formation and electronic structure in ACIE.
What's going on in coordination- and bioinorganic chemistry? Read the "Trendberichte Anorganische Chemie 2019", which we jointly composed with Wilma Neumann in Nachrichten der Chemie.
Our joint work with Karsten on cumulene fragmentation for terminal nitride synthesis is out. An idea with indeed great impact on our current work…
We welcome Alex to the group. Happy to have you here!
Stephen's work on CO2 activation by a palladium terminal sulfonimido complex is accepted in Austr. J. Chem. in the special edition for the Heron8 meeting on reactive intermediates in Uluru.  Thank you again, Curt, for the invitation and organization of a truly exciting symposium!
Pier is finally here! Happy to have an old friend here in Erlangen.
We present our new work at the OMCOS20 in Heidelberg. Thank you for the helpful comments!
Dominik presents on his teaching proposal at the Cotrell workshop of the Research Corporation for Science Advancement in Tucson, Arizona. Such an inspiring meeting!
Annette presents our new exciting results at the EICC-5 (5th EuChemS Inorganic Chemistry Conference) in Moscow – and receives the 300

€

poster price by MDPI. Congratulations! So happy to see that our research is well received.
Great news: The Max-Buchner-Forschungsstiftung of the DECHEMA supports our research! Hopefully,  our envisaged research will be useful for the non-academic community.
We submitted our first preprint on how and why to use magnesium for transmetalation of NHCs. Go open access, whenever appropriate! We also believe that "open" referee reports are an opportunity to improve the quality of the reviewing process.
Annette receives a fellowship for 12 months within the framework of support for outstanding women in research to continue her indeed outstanding work. Congratulations!
And here it is:
Isolating Free Carbenes, their Mixed Dimers and Organic Radicals
The Fulbright commission supports us with the Fulbright-Cotrell Award. Feeling so honored to be part of the Fulbright-Cotrell community! Looking forward for the next workships and excited to realize our teaching project soon.                
Our movie starring Stephen on how to synthesize air-sensitive radicals and carbenes with filter cannulas is online. Well done, Stephen. Hopefully, our contribution will help many young researchers to prepare free carbenes and organic radicals!
We receive support by the Boehringer-Ingelheim Foundation. Thank you for your confidence in our research program. We hope to pay back soon with exciting new results.
Our work on palladium imido complexes was highlighted in a recent manuscript by M. Tamm and coworkers as a breakthrough in the field together with the spectacular work by L. Deng and Y. Chen. Happy to be named in line with these two great chemists from the SIOC!
We just shot the movie for our contribution to JOVE on how to synthesize air-sensitive radicals and carbenes with filter cannulas. We hope that this will be a good support for anybody interested in learning Schlenk techniques and the synthesis of air-sensitive compounds. Stay tuned for a nice movie starring Stephen in the next weeks.
Dominik is among the Top-Reviewers for Organometallics and Dalton Transactions in 2018. Thank you for appreciating my efforts! And thank you Paul for your personal letter. Outstanding!
Our Tutorial Pushing Electrons – Which Carbene Ligand for Which Application is the most read Organometallics article in 2018! Exciting news!
Our isolation of the elusive palladium terminal imido scaffold is highlighted by ChemistryViews by ChemPubSoc Europe. Interested in more details? See the next post…
Our work on the first isolation of a d8 configured, multiple bonded palladium complex has been accepted for publication in Angewandte Chemie as a "Hot Paper"! Read about the exciting reactivity of this elusive compound, which is of course not a violation of the oxo-wall and shows intriguing vicinal zwitterionic character: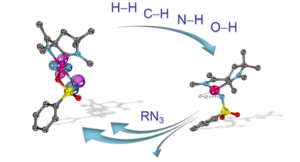 Annette's poster scores again at the ACS Forum in Heidelberg. Happy to see that our research is well received. Thank You!
Annette's and Dominik's poster has been awarded the poster prize by Inorganic Chemistry at the NIKAS 2018 in Göttingen. Thank You! And thank you for organizing a great symposium with fantastic interaction and exciting talks!
Why are Mößbauer isomer shifts NOT a measure for the oxidation state of high-valent iron compounds? Find it in our recent contribution to M. Malischewski's and K. Meyer's thrilling research on iron Cp* complexes…
We thank the Dr. Hertha und Helmut Schmauser-Stiftung for their support!
So exciting: Can we harness the unique properties of carbenes to tailor organic materials for singlet fission?