"Tetrapyrroles in Materials Science"-Symposium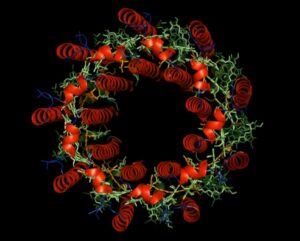 On September 30th, 2016, the Department of Chemistry & Pharmacy together with the Graduate School Molecular Science (GSMS) and the Interdisciplinary Center for Molecular Materials (ICMM) hosted the symposium "Tetrapyrroles in Materials Science".
The topic reflected the on-going interest and expertise in Erlangen on various aspects of porphyrins and their applications. The world-wide recognized chemists Atsuhiro Osuka (Kyoto University, Japan), Karl Kadish (University of Houton, USA), Roberto Paolesse (University of Rome Tor Vergata, Italy), Francis D'Souza (University of North Texas, USA), Tomas Torres (Autonoma University Madrid, Spain) and Shunichi Fukuzumi (Osaka University, Japan) demonstrated state-of-the-art research in tetrapyrrole science. Young researchers from groups in Erlangen presented their work in the field as well in the day-long symposium.
Program:
8:55 – 9:00 Uhr
Welcome
9:00 – 9:45 Uhr
Atsuhiro Osuka
Kyoto University, Japan
Recent Advances in the Chemistry of Subporphyrins
9:45 – 10:05 Uhr
Dominik Lungerich /
N. Jux
FAU
Hexaarylbenzene Substituted Porphyrin Architectures
10:05 – 10:20 Uhr
Coffee break
10:20 – 11:05 Uhr
Karl Kadish
University of Houton, USA
New Insights into the Electrochemistry of Corroles, Porphyrins and Related Molecules
11:05 – 11:25 Uhr
Michael Lepper /
H.-P. Steinrueck
FAU
Comparing the Adsorption Behavior of Different Cyanoporphyrins via STM
11:25 – 13:00 Uhr

Lunch break
13:00 – 13:45 Uhr
Roberto Paolesse
University of Rome Tor Vergata, Italy
Porphyrinoids for Chemical Sensor Applications
13:45 – 14:05 Uhr
Maximilian Popp /
A. Hirsch
FAU
TBA
14:05 – 14:50 Uhr

Francis D'Souza
University of North Texas, USA
High-Energy, Long-Lived Charge Separated States via Molecular Engineering of Donor-Acceptor Systems
14:50 – 15:10 Uhr
Rainer Lippert /
I. Ivanovic
 FAU
Highly Functionalized Porphyrins as Model Systems for Bio-Medical and Energy Related Studies
15:10 – 15:25 Uhr
 Coffee break
15:25 – 16:05 Uhr
Tomas Torres
Autonoma Unversity, Spain
Phthalocyanine and Subphthalocyanine Containing Carbon Nanoestructures
16:05 – 16:25 Uhr
Axel Kahnt /
D.M. Guldi
 FAU
Photoinduced Electron Transfer in a ZnO-Porphyrin Hybrid System
16:25 – 17:15 Uhr
Shunichi Fukuzumi
Osaka University, Japan
Artificial Photosynthesis for Solar Fuel Production and Use
17:15 – 17:20 Uhr
Closing remarks
Contact:
We could not find any entry with the given search term 4881.
Information: