Light controlled 3D multi-switch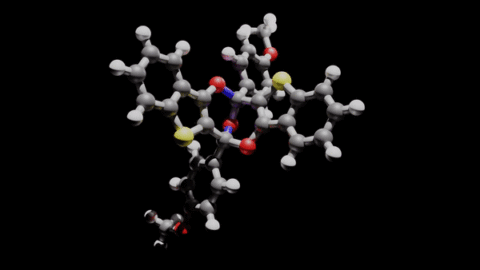 Molecular photoswitches are molecules which undergo geometric and physical changes upon light irradiation. Properties such as color, chemical reactivity or biological activity can be controlled by light of a certain color range.
Nature also uses molecular photoswitches, with retinal being one of the most prominent examples. Retinal is an elongated molecule, embedded in the protein rhodopsin, which undergoes geometric change upon light irradiation, thus activating a signaling cascade which is crucial for the visual process. Synthetic molecular photoswitches as artificial counterparts are used for light attenuation in glasses, optical memory, sensor materials, photoactivation of drugs inside the body and as materials for 3D printing.
Conventional molecular photoswitches possess two states: "ON" and "OFF", similar to everyday switches e.g. light switches. State interchange can be achieved by using an external stimulus, in this case light of a certain color. It is beneficial if both states are strongly different in both geometric and electronic properties to achieve large alterations during switching. However, the majority of known photoswitches allow only change of either geometry or electronic properties.
Researchers of the FAU have now discovered a fundamentally new class of molecular multi-switches, which exhibit changes in both geometry and electronic properties during state transition. The multi-switches are based on a rare molecular cage structure, a trioxabicyclononadiene (TOND), and operate in an unprecedented manner. The multi-switches can change between four different states, which are addressed using light or heat signals. Switching allows color changes from colorless to yellow and leads to opening of the cage structure, which is followed by further structural rearrangements, resulting in different geometrical shapes. The complexity of the system along with high precision of control open up a whole range of possibilities for potential future applications.
Exploration of this new class of multi-switches not only resulted in the discovery of new chemical photoreactions, but also in new possibilities for the light-driven control of phenomena at the smallest scales.
The results were published in the Journal of the American Chemical Society.
Further information
Publication: Hemithioindigo-Based Trioxobicyclononadiene: 3D Multiswitching of Electronic and Geometric Properties
Contact
Department of Chemistry and Pharmacy
Chair of Organic Chemistry I