FAU student survey 2021 starting now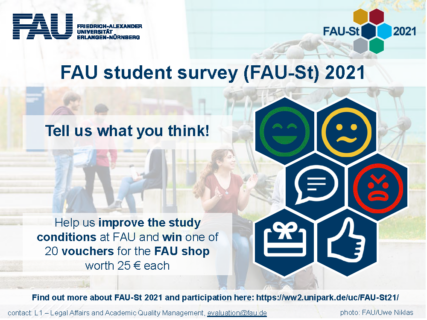 This year, students are again being asked to give their opinion on their degree programme and study conditions at FAU.
It's time for another round of the FAU student survey (FAU-St). Until 13 June, students will once more be able to evaluate their studies at FAU. This year, the study will also focus on digital teaching and online examinations. Other topics it will cover include general conditions for studying and specific services offered by various organisational units. All participants will be entered in a prize draw with the chance to win one of 20 vouchers for the FAU shop worth 25 euros each.
As well as topics relevant across the University as a whole, FAU-St 2021 also includes blocks on various specific services. For example, a questionnaire was drawn up in collaboration with the Innovation in Learning Institute covering students' experiences with and attitudes towards the digital teaching and examinations offered online as a result of the coronavirus pandemic. 'With the current situation, where we are faced with new challenges and where innovations in teaching have to be implemented quickly, it is very important for us to gain an insight into students' experiences during this time,' says Prof. Dr. Bärbel Kopp, Vice President Education. Other parts of the survey examine specific services provided by the Centre for Teacher Education, the School of Law and the Faculty of Humanities, Social Sciences, and Theology. The Student Council has also included questions in the survey. This year it is focussing on sustainability in the degree programmes and faculties and is asking students their opinions on the state of the buildings at FAU.
Dealing with results
The results of FAU-St are discussed in university committees for teaching and studying and are taken as the basis for reflecting on and extending services offered in various areas. The Executive Board, faculties and University Administration as well as various central institutions such as the Office of Equality and Diversity receive specific evaluations and reports aimed at improving study conditions at FAU. 'The interest in the results of FAU-St has steadily increased over the last few years. Distributing the results to such a wide audience and using them across several different departments means that student feedback can be taken into account in many crucial processes throughout the University,' explains Prof. Kopp.
Publishing results
The final report on the results is expected to be published on OPUS FAU at the end of the winter semester 2021/22, where the final reports of previous years are also available. Further information about FAU-St is available on the data protection information sheet.
Further information:
L1 – Legal Affairs and Academic Quality Management
Désirée Bender
Phone: +49 9131 85 70861
Lena Olejniczak
Phone: +49 9131 85 70862