RSC Desktop Seminar on "Progress in singlet fission and photon upconversion"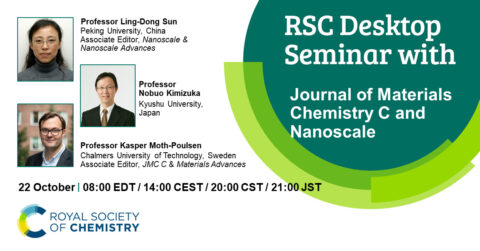 The British Royal Society of Chemistry (RSC) cordially invites to an online seminar on 22 October 2020 at 2 pm. The seminar will cover new research results on singlet fission and photon conversion. The event will be moderated by Prof. Dr. Dirk Guldi, Chair of Physical Chemistry I, FAU, and Prof. Natalie Stingelin PhD, Georgia Institute of Technology, USA. Prof. Dr. Guldi is member of the RSC and chief editor of the RSC journals Nanoscale and Nanoscale Advances.
Program of the Desktop Seminar (in CET):
2:00 pm
Dirk Guldi, FAU and Natalie Stingelin, Georgia Institute of Technology, USA: "Introduction
2:15 pm
Kasper Moth-Poulsen, Chalmers University of Technology, Sweden: "Towards Supramolecular Systems for efficient Triplet Triplet Annihilation Photon Upconversion"
2:40 pm
Nobuo Kimizuka, Kyushu University, Japan: "Self-assembly approaches for photon upconversion"
3:05 pm
Ling-Dong Sun, Peking University, China: "Opening the toolbox of Luminescent Lanthanide Nanocrystals"
Further information and registration
The seminar is free of charge, but registration is required.
Link to the seminar and registration